News and Views
Monday, March 03, 2008 5:43:24 PM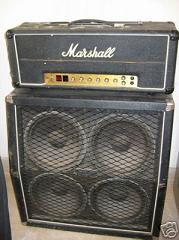 I've finally decided to sell my old 100 watt Marshall head and 412 cabinet. It has been sitting around my house now for almost 10 years without any use, so it doesn't make sense to keep it any more. On top of that, the townhouse I live in is small and too close to neighbors to play guitar at any decent volume. The eBay link is here.. It can't hurt to try to drive some traffic to it. :-) It got a lot of good use back in the 80's and 90's, but it's time to find a new owner. If I ever get in a situation where I need volume, I'll have to pick up another one on eBay, I guess. . . .
Posted by Tom Muck
(Add Comment disabled) | View comments (0) | Permalink | Trackbacks (0) |

Digg This


Before posting comments or trackbacks, please read the posting policy.