News and Views
1 post on 07/17/2016

Sunday, July 17, 2016 11:34:00 AM
We'll never know what guitars Robert Johnson used on the recordings from 1936 and 1937, but there are various theories out there as well as a few known facts. The two known pictures of Robert Johnson show two different guitars: a studio portrait taken on Beale Street in Memphis shows him with a 1929 Gibson L1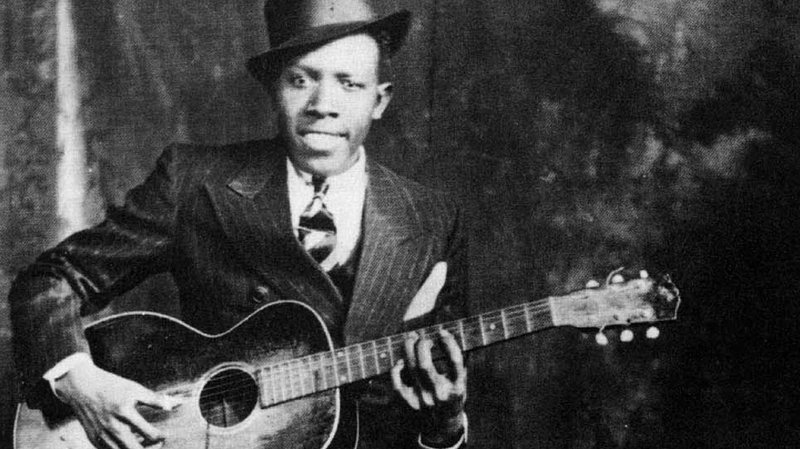 This guitar may or may not have belonged to him. The self portrait with the cigarette dangling from his mouth shows what appears to be a Kalamazoo KG14, or similar Gibson-made guitar from the same period (the Carson Robison guitars made by Gibson had the same configuration).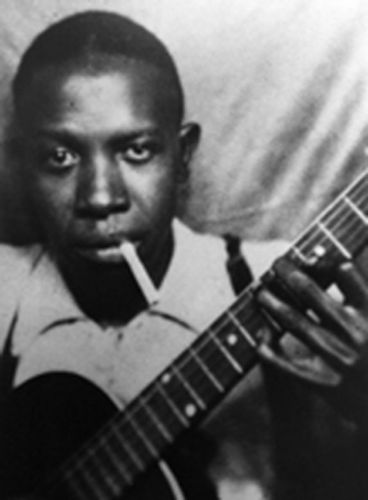 The KG14 is essentially a budget model L1 or L0, with ladder bracing instead of x-bracing, and no truss rod. They sold out of mail order catalogs for about $12.75, whereas the L1 sold for about $35-50. The KG14 became available in 1936. This is a picture of my late '30s Kalamazoo: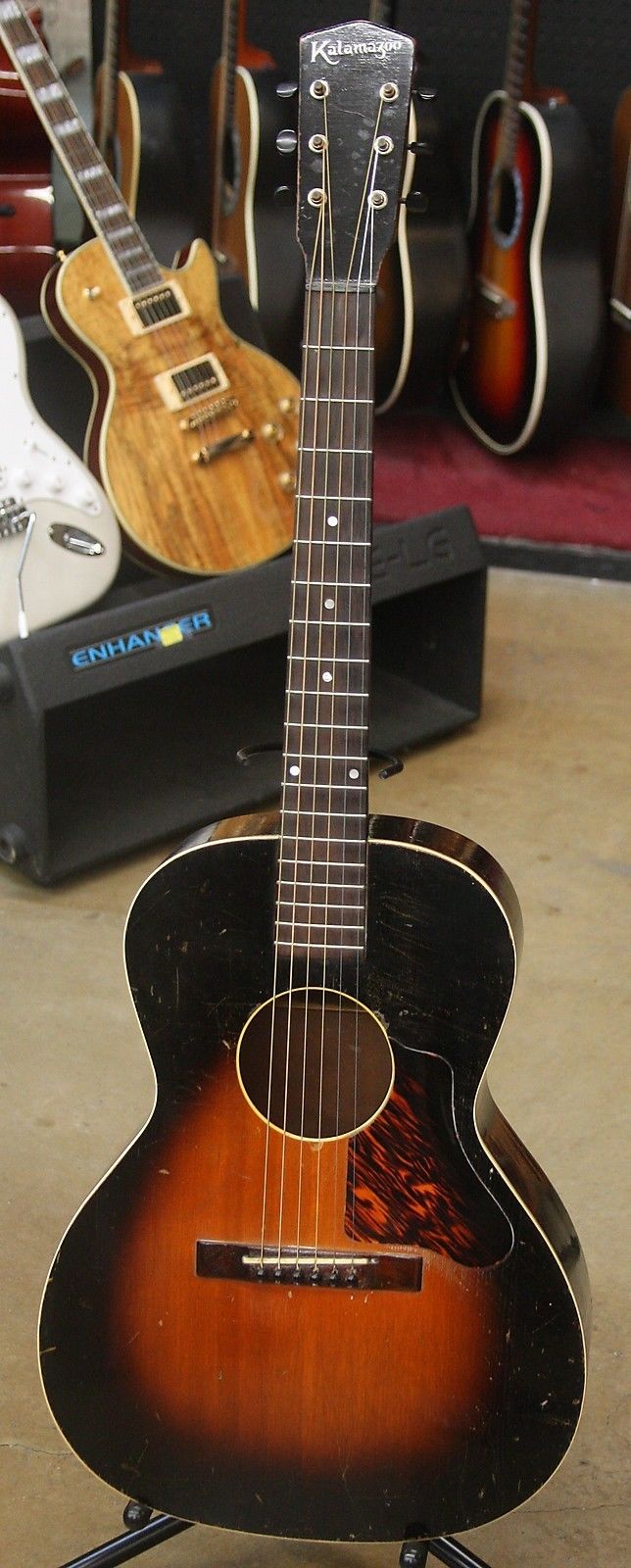 To further complicate matters, Don Law, who supervised the sessions, stated that Johnson used a borrowed guitar for the San Antonio sessions (1936) at the Gunter Hotel. Johnson arrived on Sunday to record, but was arrested that night and had to be bailed out of jail. Apparently, during the arrest the guitar was not available any more (broken, confiscated, or lost), and when recording was started on Monday, November 23, the studio obtained a guitar for Johnson to use. It could be anything. Stephen LeVere, who oversaw the mastering of the Complete Recordings, postulates that the San Antonio sessions sound like a flattop whereas the Dallas sessions sound like an archtop. Johnson probably used his own guitar for the Dallas sessions. It is known that Johnson liked the Kalamazoo archtop guitars, so this is plausible, and it does sound like an archtop to my ears as well. Johnny Shines stated that Johnson liked Kalamazoo and Stella guitars, and also mentioned that both he and Johnson had Kalamazoos with f-holes (archtop) and liked archtops, so the theory holds water (Johnny Shines interview).
Johnson had some of the best acoustic guitar sounds on record, for my money, in addition to being one of the greatest players of acoustic blues, but there are 3 distinct guitar sounds among the various recordings. The only thing this proves is that Johnson's sound came from his fingers, and the guitar he used is not important. This page lists his songs, recording dates, and master numbers, among other things and is a work in progress: Robert Johnson songs. Johnson recorded 59 takes of 29 songs, of which 42 takes still remain. Maybe someday others will be found, but it's likely many of the masters were destroyed during the war for the metal. Update: Among the 17 missing songs are 2nd takes of Terraplane Blues, Walkin Blues, Preachin' blues, and Hellhound on my Trail, and a third take of Milkcow's Calf Blues.
One thing I will say about the guitar sound, I think the Gibson L1 shape and size is perfect for blues. Every guitar I've played in this configuration, including my own Martin CEO7 and my Kalamazoo KG14, sound amazing. The best sounding guitars I've heard have been old 1920's and 1930's Gibson L1 guitars. Whether or not he used something like this is open to speculation.
Update:The other question is, what sounds more like a Robert Johnson recording today, an 80 year old guitar with 80 year old wood (which was brand-spanking new when Robert Johnson recorded) or a brand new guitar built in a similar style to the old 30's guitars?
Update: Here is "Kind Hearted Woman Blues" from the San Antonio sessions: Kind Hearted Woman Blues. "Me and the Devil Blues", recorded in Dallas, uses the same tune, but you can here the difference in guitar tone. It has a more "ringing" tone, and the bass is more percussive sounding: Me and the Devil Blues. Below is my Kalamazoo KG31, which may or may not be the type used by Robert on the Dallas sessions (or was it a KG21?):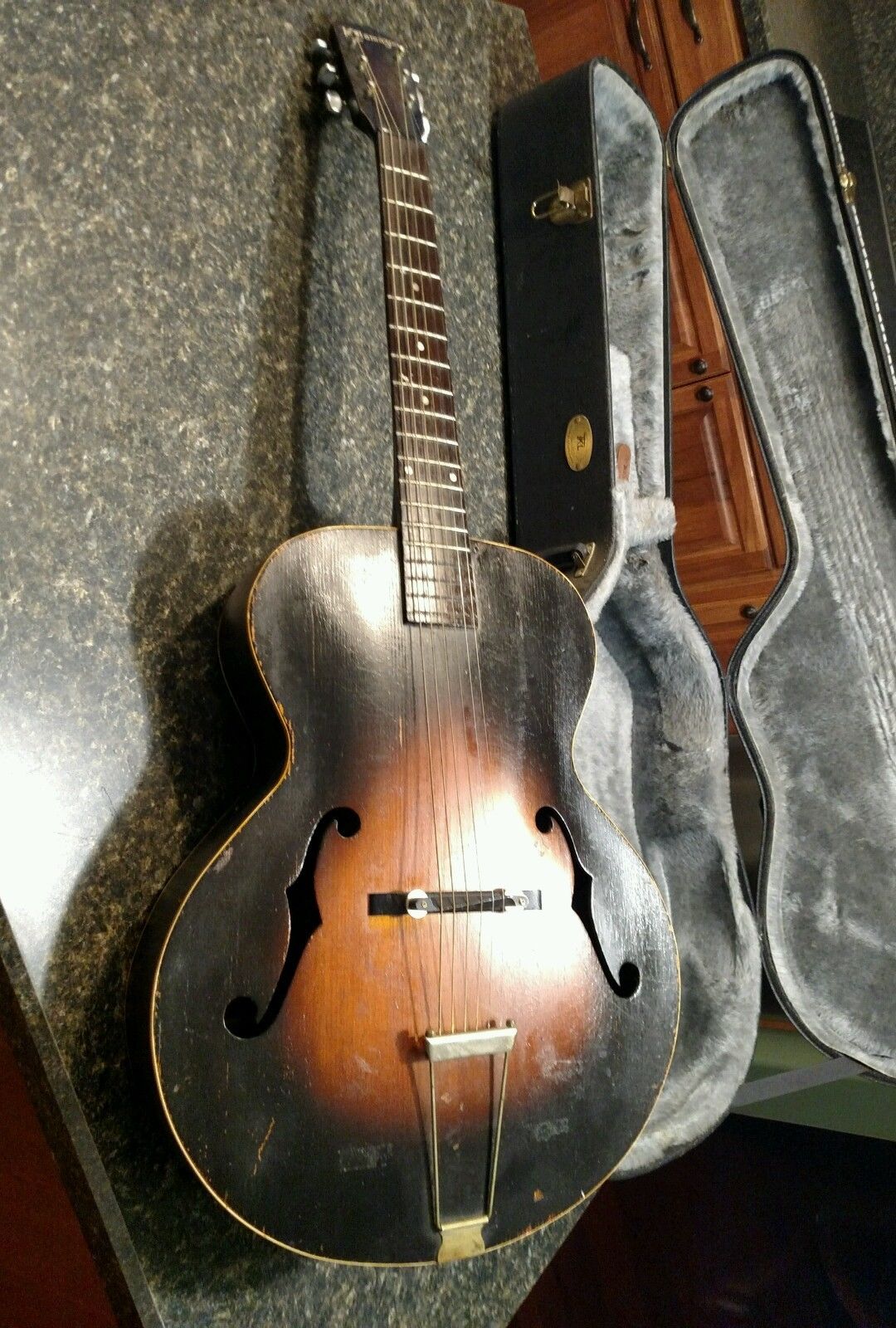 . The KG 31 is bigger, with a 16" lower bout, whereas the KG21 has a 14 3/4" lower bout, similar to a Gibson L1.
Update 6/20/2019: Changed the information about Johnson's San Antonio sessions based on information in the new Johnson biography by Bruce Conforth and Gayle Dean Warlow. Johnson recorded all of the sessions with a borrowed studio guitar.
Update 11/21/2020: Finally obtained a Kalamazoo KG-21 archtop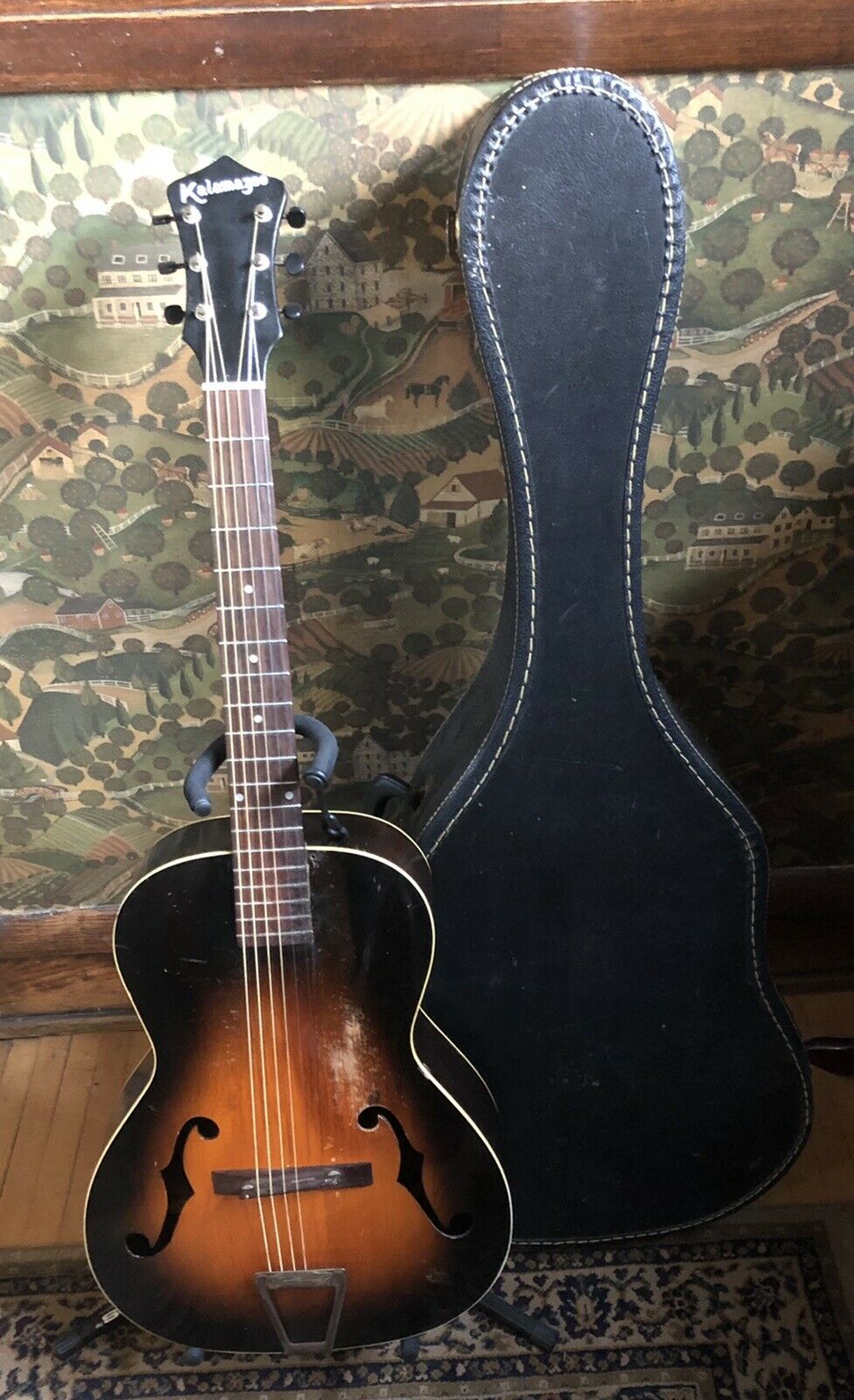 , which is likely the type of guitar that Johnson used on the Dallas recordings. He and Johnny Shines carried Kalamazoo archtops (either a KG-31 or KG-21) with them until around December 1937 when they were lost in a fire. After that, Johnson likely obtained his Kalamazoo KG-14 that is seen in the famous cigarette photo in Steele, Missouri.
Update 8/17/2021: Annye Anderson's book about her step-brother Robert is a must-read: Brother Robert. The cover is the most recently discovered picture of Robert with his Kalamazoo KG-14 guitar. In this more recent interview with Annye Anderson, interview, she describes obtaining Robert's guitar. Apparently Robert's sister Carrie sent her son Louis to Greenwood to obtain it, and it was transported to Anapolis and then Churchton, MD. It was subsequently lost.
Category tags: Blues, Robert Johnson
Posted by Tom Muck
Add comment | View comments (2) | Permalink | Trackbacks (0) |

Digg This


1 post on 07/17/2016

Before posting comments or trackbacks, please read the posting policy.