News and Views
1 post on 07/22/2007

Sunday, July 22, 2007 11:52:18 AM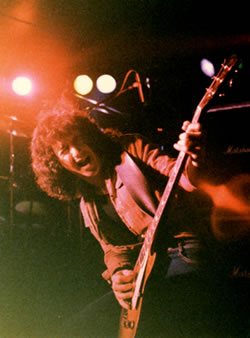 I was doing a little Googling and found that one of my favorite guitar players -- Dave Constantino -- has a new CD out. This is his first studio release since he was in Talas in the late-70's/early 80's. For people in Buffalo, NY, Talas was a sensation. They could play 6 nights a week around the area and still pack a place like Kleinhans Music Hall when they wanted to do a showcase. When big-name bands like Aerosmith came into town, Talas would frequently be the opening band. They also did a tour with Van Halen and played 29 cities.
For those of us in local bands, Talas was a band that we all looked up to and wanted to be like. As an aspiring guitar player, I would go to Talas shows 2 or 3 nights every week, and eventually saw them over 300 times. They never disappointed and had hundreds of songs in their repertoire. Talas consisted of Dave Constantino on guitar, Billy Sheehan on bass, and Paul Varga on drums. The music was hard rock, but with a melodic edge to it, or pop with a hard rock edge...take your pick. Dave's original band -- The Tweeds -- was around the area in the 60's and had a regional hit single called "Thing of the Past", which was a Beatle-esque ballad. When Talas broke up in the early 80's, Dave re-formed The Tweeds with Paul Varga and played smaller clubs with small amps for that 60's sound, and sometimes even a box to beat on instead of a drum to get that early Elvis sound.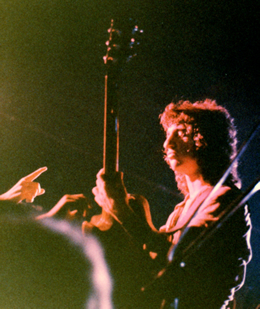 Talas had a few regular gigs, including Monday nights at Harvey and Corky's Stage One, a small local bar that was also the place to be on any given night. They would have free drinks until 10PM, and Talas would get on about midnight and play until 3AM or later. Harvey Weinstein eventually went on to become a big name movie distributor, but back then he was a concert promoter in Western NY. Talas would also allow other bands to open up for them, including touring bands promoting records. One night, I was fortunate enough to see U2 opening for Talas at Stage One on a tour promoting one of their early albums. At the time I remember thinking they were one of the cooler bands who came through, but they have since gone onto bigger things. I was at Stage One on a Monday night seeing Talas the night John Lennon was shot, and Talas did a set of Lennon tunes to close the night.
Talas had a few reunion shows after many years of being apart -- in 1997 they played Kleinhans Music Hall in Buffalo, which was later released as a live CD called If We Only Knew Then What We Know Now. I didn't know about that show, unfortunately. Then in 2001 they did a reunion show on the waterfront in June in Buffalo, which was later released as a live DVD. I was there that night, along with about 18,000 people. What an amazing night that was. They did all the old Talas classics like "Thickhead" and "Sink Your Teeth" and some of the most popular cover tunes they used to do back in the 70's/80's like "Battlescar", "Stealin'", and "Helter Skelter".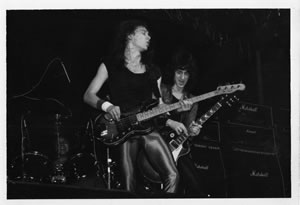 The highlight of my years seeing Talas -- and one of my own personal musical highlights -- was one New Year's Eve at a club called the Lone Star, when Dave called me up on stage to do a song with them. That was an amazing experience I'll never forget. During the first set he stuck his guitar neck out into the crowd and let me finger the chords as he strummed the guitar. Then in the next set, he called me up. A couple of my band mates were there, along with most of my friends. We did the old Sammy Hagar tune "One Way to Rock", and it sounded great from where I stood. It was very cool to be on stage jamming with Billy, Dave, and Paul. They didn't know me, as I didn't talk much, but still they took a chance and let me do a song. I'm grateful for that.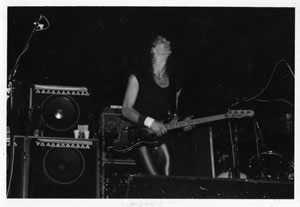 The new CD is more bluesy than the songs that Dave did in Talas, but has a much more prominent guitar. I highly recommend it. Dave's guitar is always tasteful, and reminiscent of Montrose, Page, Clapton, and other rock guitarists of that era. He also had the best sound I've heard, with a Les Paul plugged straight into a Marshall. On the Talas albums, he never seemed to cut loose in the studio the way he did in live shows and played in a very restrained way, but on this CD he has more of an opportunity to showcase his playing. As Dave was the guitar player that I saw the most when I was first starting out, I developed a similar style myself, although I also had many other influences. The CD also features the Rinehart brothers on bass and drums, who coincidentally lived directly behind me when I was growing up in Tonawanda, NY, although at the time I didn't know they were musicians. It's a small world.
Pick up the CD at Dave Constantino's web site.
Posted by Tom Muck
Add comment | View comments (4) | Permalink | Trackbacks (0) |

Digg This


1 post on 07/22/2007

Before posting comments or trackbacks, please read the posting policy.