News and Views
1 post on 01/14/2006

Saturday, January 14, 2006 1:18:39 PM
Many people think that when a recording is made and record/cd is issued, that the sounds are preserved for posterity. The same is true of motion pictures, books, plays, stories, etc. This is simply not the case. It takes a dedicated effort off people with interest in a particular subject to keep something alive. Many films have been lost over time (mostly from the silent era and the 30's and 40's) because film stock simply deteriorated, or copies of the films have disappeared over time. The classic example is the Lon Chaney movie London After Midnight, which has been much sought after for years, and still never found.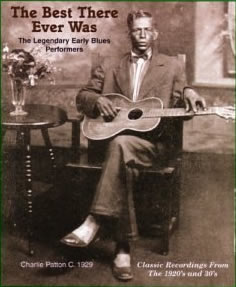 I bring this up because as a lover of the blues, it is exciting that rarities are occasionally turning up. Just 3 years ago, several photos and recordings were found, including a pristine copy of the only known photo of Charley Patton. What is cool about it is that the only previously known copy of the photo was a grainy head-shot. Now we have a full body shot of Charley sitting in a chair holding the guitar. Amazing stuff. Many other photos have recently turned up as well, including a rare shot of Skip James, one of my favorite bluesmen.
Also found in 2002 were copies of 4 previously lost songs from King Solomon Hill and Blind Joe Reynolds, two of the most legendary blues performers of the 20s/30s. King Solomon Hill is a guy who has controversy around him as to who he even is, although most people are now convinced that it is actually a guy named Joe Holmes, as outlined in the book Chasin' That Devil Music. These were long considered among the Holy Grails of blues recordings. So far these songs have turned up on some Yazoo compilations (Times Ain't Like They Used To Be volumes 5-8). They are amazing recordings. Many of the blues records made in 20s and 30s only had a few thousand pressings, and most records over time become lost, damaged, or were simply thrown away. It is only through the efforts of some die-hard fans beginning in the early 60s that many famous blues recordings were found. These students, musicians, and record collectors went door-to-door looking for old 78s, and some even tracked down country records like birth certificates and death certificates. Without these guys, my CD collection would be miniscule. ;-)
Until the mid-80s, nobody knew what Robert Johnson looked like. Two photos were found shortly before the release of the Robert Johnson boxed set. In the late 90s, a new version of a Robert Johnson song was found -- Travelin' Riverside Blues -- and put on the King of the Delta Blues Singers CD. If you have the 41 song compilation Robert Johnson: The Complete Recordings, you are missing this rarity. There are still many alternate takes of songs that may or may not have ever existed.
In September 2005 (which I just found out about), the Holy Grail of lost blues records was found -- Son House's "Mississippi County Farm Blues" with the flipside "Clarksdale Moan". Son House is often regarded as the direct lineage between blues and rock and roll, having been one of the main influences of Muddy Waters and Robert Johnson. These two previously lost recordings are the only two known lost Son House songs from the 1930 session in Wisconson that produced some of the most classic blues recordings of all time, featuring Son House, Willie Brown, Louise Johnson, and Charley Patton. They have not yet been issued on CD, but I can hardly wait for the Yazoo release of The Stuff That Dreams Are Made Of, which will include these two songs.
Update: 4/6/2006: Finally got my copy of the Son House lost takes on "The Stuff That Dreams Are Made Of", which came out on CD this week. The songs live up to the legend -- "Clarksdale Moan" is an unusual tune, quite unlike other Son House songs, but has the same impassioned delivery of the other songs in the 1930 session. "Mississippi County Farm" is another masterpiece that was also covered in House's 1941 session for the Library of Congress, although this take has somewhat higher, raspier vocals in parts, which makes it an intense listening experience. I haven't listened to the entire CD yet, but what I've heard is great. There is a lot of hillbilly and country music mixed in the the blues, but there is some intricate finger-style guitar in some of those pieces as well.
Category tags: Music, Blues, Robert Johnson
Posted by Tom Muck
Add comment | View comments (3) | Permalink | Trackbacks (0) |

Digg This


1 post on 01/14/2006

Before posting comments or trackbacks, please read the posting policy.