Translated Source Viewer:
This is an extension for extension developers. It is especially handy when building your own translators. The extension is a Floater that is accessible from your Window menu. Upon installation it allows you to have a perpetual Translated source viewer at your disposal. You can use this floater by itself or dock it with your other floaters. The translated source code is handy for Dreamweaver MX extension developers so that they can see the hidden tags in the document.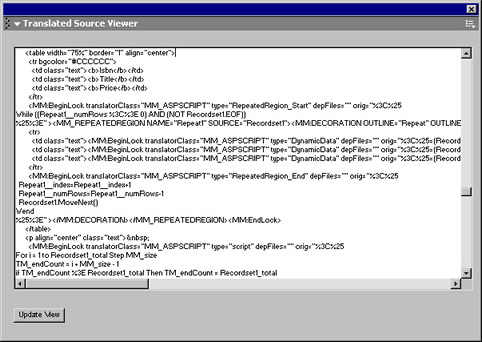 It will display the Translated contents of the currently selected tag, or the entire document if nothing is selected. The code in the window is not editable, but you can copy/paste the code by using the contextual menu within the floater. Note that keyboard shortcuts for copy/paste don'twork in floaters.
For a good explanation of the hidden tags in UltraDev and Dreamweaver -- what they are used for and how you can use them to your advantage when building UltraDev and Dreamweaver extensions -- see chapters 22 and 23 of Dreamweaver UltraDev 4: The Complete Reference. Note: this information was not retained in Dreamweaver MX: The Complete Reference.
Tom Muck
Copyright © 2002-2004, tom-muck.com. All Rights Reserved.